InformationEdit
Added new elemental Arrow, the Rope Arrow, which on Impact attempts to spawn a falling Rope (max 32 length)
Rope Arrow against wall creates wall mounted Rope, hit against ceiling creates ceiling mounted rope
Made the grappling Hook recoverable by punching it's rope
The Rope Arrow is also recoverable by punching it's rope (it breaks into its pieces, though)
Information taken from: Minecraft forum thread
Here's a video about the usage of this mod: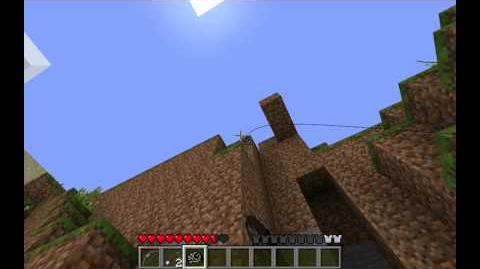 Here are more recipes:
Woven Cloth= 2 string on top of each other
Wool= 2 woven cloth (shapeless)
Arrows dopEdit
Same as standard arrow, but replace flint tip with:
Sand: Confusion Arrow
Dirt: Dirt Arrow
Gunpowder: Explosion Arrow
Coal: Fire Arrow
Seeds: Grass Arrow
Snowball: Ice Arrow
Redstone: Laser Arrow
Rope: Rope Arrow
Slime: Slime Arrow
Torch: Torch Arrow
Obsidian: Warp Arrow
Ad blocker interference detected!
Wikia is a free-to-use site that makes money from advertising. We have a modified experience for viewers using ad blockers

Wikia is not accessible if you've made further modifications. Remove the custom ad blocker rule(s) and the page will load as expected.